What's Possible With Urethanes
Polyurethane is one of the most flexible, durable and versatile materials on the planet. It can be shaped and molded into virtually any form and can be bonded to a variety of different materials, including certain types of plastics and most metals. It can be very soft (like rubber) or very hard (similar to a plastic like nylon) – which makes it an ideal material for anything from industrial wheels and rollers, oilfield parts, mining and agriculture equipment to roller skate wheels, bowling balls and scuba fins.
Because raw urethane is processed in the liquid state, it can be mixed, metered and dispensed precisely by machine into complex shapes – the typical tolerance range for cast polyurethane parts is ± 0.015 inches – with colors and other additives customized to suit your application.
Polyurethane offers unlimited possibilities. PPI offers a wide range of reliable and innovative solutions that extend the life of our customers' products in any environment. We partner globally with processors, OEMs and end-users in terms of material recommendations, material processing and innovative solutions to suit their performance requirements.
Types of Polyurethanes
Based on the building blocks of TDI, MDI, PPDI, polyethers, polyesters and polycaprolactones, cast polyurethanes offer a wide variety of application possibilities and advantages.
Polyethers perform well in dynamic applications and in hydrolytic environments. They have better dynamic properties. They are extensively used in die-forming pads, press brake dies, die springs, fork lift tires, roller coaster wheels, rolls for steel and paper mills.
Polyesters have superior cut, tear and abrasion resistance as well as better resistance to oil and solvents. They are typically used in hydraulic seals, scraper blades, rolls for graphic arts, pipeline pigs, chute liners, etc.
Advantages of Polyurethanes
Abrasion Resistance
One of polyurethane's main advantages is its excellent abrasion resistance – the ability to resist rubbing, scraping or erosion that remove material from the surface – regardless of low temperature. No other form of elastomers, metals or plastics has a better abrasion resistance than polyurethanes. In fact, polyurethanes can outperform steel as high as 8 to 1, or other materials as much as 10 to 1, which is why for decades they've been a top choice for highly abrasive environments, such as mining, transportation, processing and beyond.
Load-Bearing
Molded polyurethanes have excellent load-bearing ability. They can support higher loads of compression than rubber or other elastomers of similar hardness – which means molded urethane components can be made smaller, for possible savings in weight and materials cost. Urethanes behave like incompressible hydraulic fluid; when under load, they don't change volume.
Deflection and Recovery
Polyurethanes also have higher impact resistance and resilience than plastics. They can be deformed without breaking and will recover quickly after repeated deformation. You can obtain whatever stress-strain properties you need by blending certain compounds; stress-strain characteristics aren't linear, so urethanes become stiffer with greater deflection and velocity of impact.
Hardness
Durometer is the measure of hardness of an elastomer, similar to Rockwell hardness for steel. It works by measuring the indentation of a shaped pin into the elastomer surface at a given load. Shore A, D and 00 are the most commonly used scales; however, other scales (such as B, C and O) are occasionally used. The higher the number on each scale, the harder the urethane will be, for better mechanical properties as well as better abrasion and chemical resistance.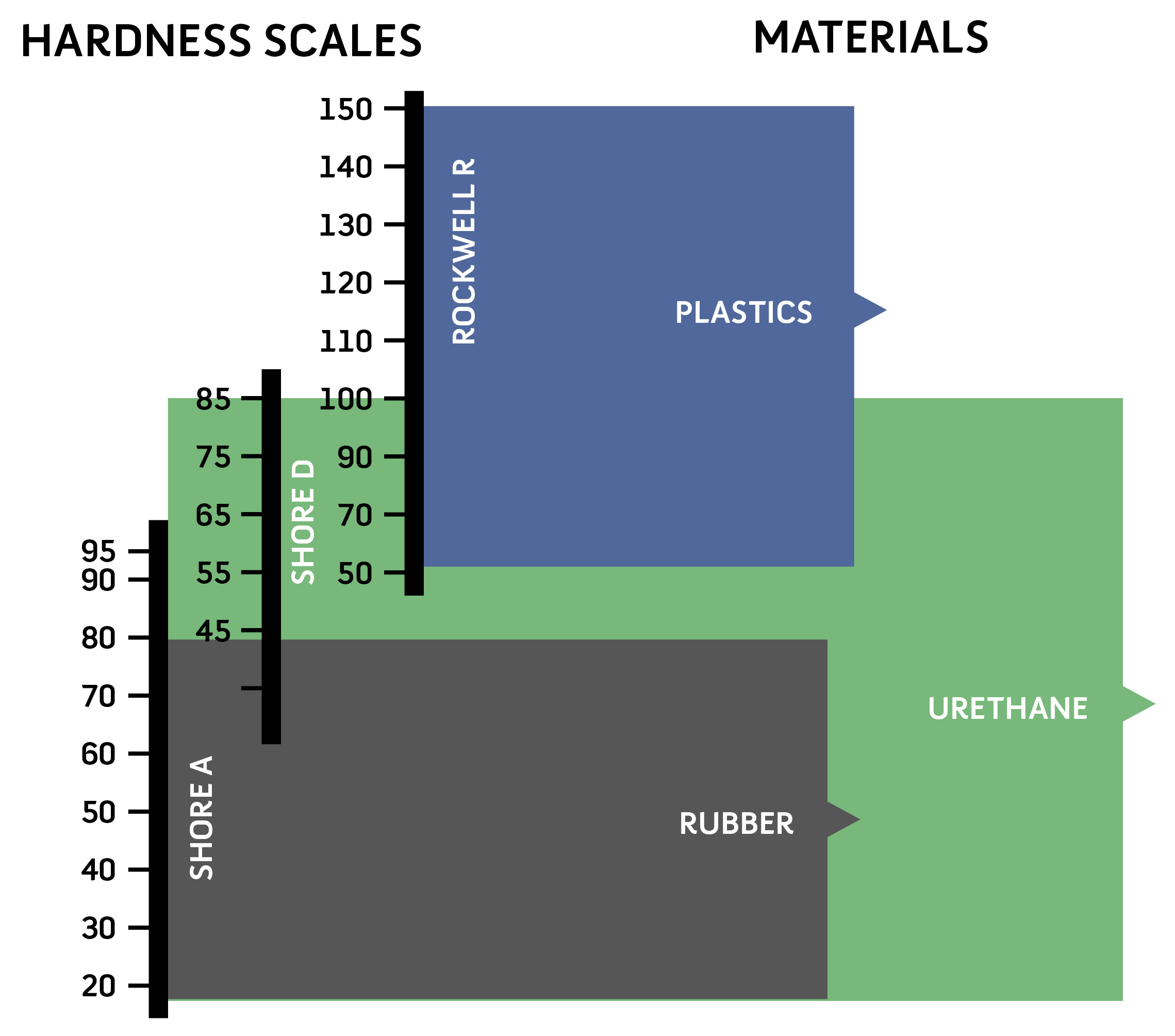 Polyurethane Advantages
Urethane vs. Metal
Lightweight
Noise reduction
Abrasion resistance
Less expensive fabrication
Corrosion resistance
Resilience
Impact resistance
Easily moldable
Easily moldable
Nonconductive
Non-sparking
Often lower cost
Urethane vs. Plastic
High impact resistance
Elastic memory
Abrasion resistance
Noise reduction
Variable coefficient of friction
Resilience
Thick section molding
Lower cost tooling
Low temperature Resistance
Urethane vs. Rubber
High abrasion resistance
High cut & tear resistance
Superior load-bearing capacity
Thick section molding without a cutting gradient
Colorability
Oil resistance
Ozone resistance
Radiation resistance