Indian Companies is a family-owned and -operated group of companies proudly serving customers in various markets since 1971. Headquartered in Texas with operations in Kentucky and Oregon, we offer a variety of solutions from custom gaskets and seals to liquid cast polyurethane, molded rubber products and material handling.
Why choose us?
Service that's friendly and fast – really fast. We prioritize building relationships with our customers and our employees, so our staff makes the effort to respond quickly, listen effectively and go the extra mile, whether you need support from concept to production or you just need a quote. We build strong relationships with our suppliers as well, so when you need something expedited, we're already in contact with the right people to get it done.

Certified, award-winning quality. We're AS9100 and ISO 9001 certified, so we understand the importance of quality products as well as quality across the board – quality people, quality packaging/labeling, quality equipment, quality hiring and quality training. We've been honored to receive supplier achievement awards from customers including Raytheon, FMC Technologies and more.

Stability and scalability. We've been in business for over 40 years, focused on doing what's best for the long term. As a financially sound company, we can scale quickly if needed, so you can rest assured that we will be there to deliver what you need, when you need it.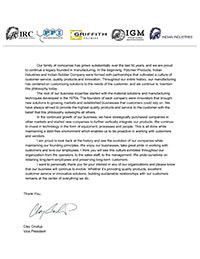 Download Executive Letter